Research and Development
CLADS Basic Fundamental Research
Among the basic foundational research, applied research, and practical research toward the decommissioning work, CLADS is conducting basic foundational research that contributes toward the resolution of nuclear energy issues.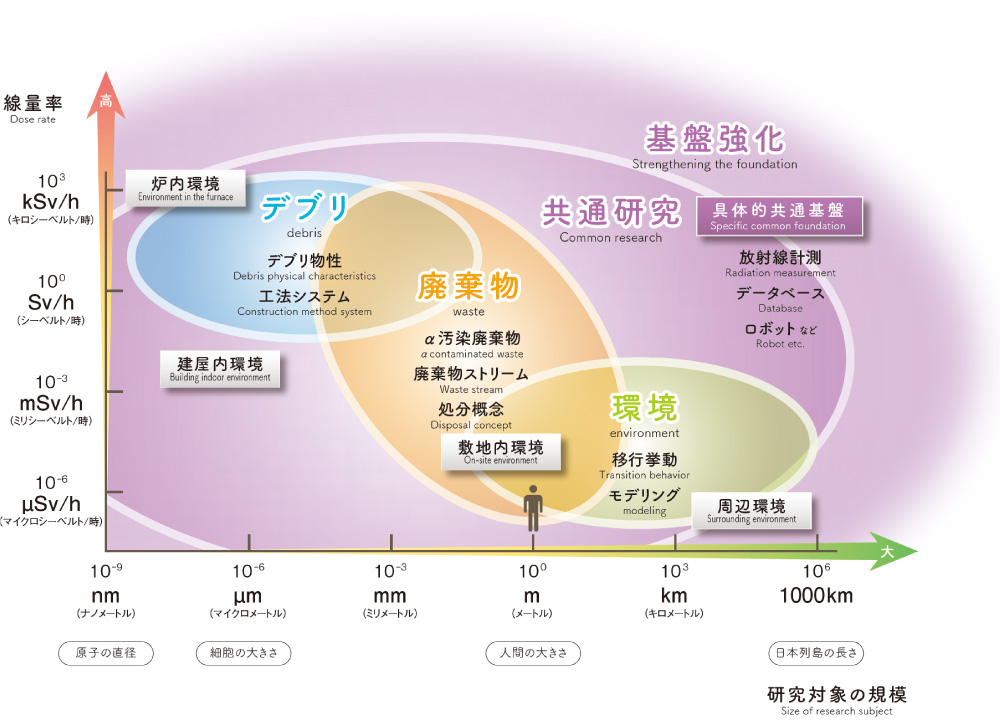 Decommissioning Sicence Diagram
"Decommissioning Sicence Diagram" provides a bird's eye view of the entire decommissioning from contaminated water management to processing, disposal and environmental remediation, and shows the correlation between the needs in each decommissioning process, thereby organizing the issues to be solved in basic and fundamental research.
"Decommissioning Sicence Diagram (Detailed Version)" provides detailed information on the selected needs one by one.
In order to proceed with the decommissioning project in a rational manner, it is necessary to identify important research issues that are considered necessary not only for the present but also for the future, along with the timing and method of implementation. For this purpose, by investigating of matching of project needs and research seeds, important untouched or buried (unnoticed) research issues for the entire project should be uncovered and presented as essential research issues. In addition to updating "List of Basic and Fundamental Research Issues on Decommissioning", which have been worked on, the relationship between needs and seeds would be organized and "Decommissioning Sicence Diagram" to meet the above requirements would be created.